DESCRIPTION OF OPERATION
The Doyle Series EP air and gas dryers are designed to provide the most economical adsorbent type dryer for capacities in the range of 20 to 3,000 SCFM where low outlet dew points are required. Gases can be dried to -40°F and lower dew points.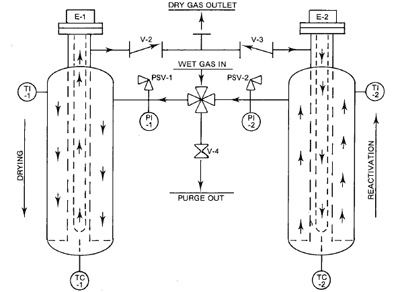 Reactivation is accomplished by air/gas purge at atmospheric pressure which provides the greatest driving force for removal of moisture from the adsorbent. Internal electric heaters are utilized to increase the adsorbent temperature to allow removing the moisture with a lower purge rate, reducing the loss of valuable product gas. Heating the adsorbent during reactivation allows the adsorbent to stay on stream for four (4) hours or longer, and efficiently utilize the capacity of the adsorbent. This process gives the lowest operating and maintenance costs for most air and gas dryer applications.
TYPICAL APPLICATIONS
The Doyle Series EP air and gas dryers are most commonly used for Natural Gas, Process and Instrument Air, CO2 and Hydrogen applications.
SPECIAL FEATURES
To CONSERVE ENERGY, temperature controls are provided to cut the electric heaters "off" and "on" during the reactivation period using only the required electrical power.* Optional reactivation temperature switch package is also available to CONSERVE ENERGY when operating at less than design capacity.
Electric heaters have INCOLOY SHEATH elements and low watt density to provide a LONG HEATER LIFE. The temperature controls mentioned above are located to provide additional protection against over-heating and heater burn-out in case air flow is lost.* Heater elements are flanged immersion type in a pipe separate from the adsorbent which allows easy heater removal without dumping the adsorbent.
The adsorbent is supported in the vessels by a SUSPENDED BED (Models EP3-80 to EP3-360) above the hot reactivation gas inlet to provide complete reactivation of the adsorbent at the exit end of the adsorbent during drying. This is required to obtain the low outlet dew point performance of -40°F at line pressure or lower.
* The Models EP1-40 & EP1-60 have no temperature controls. These are the two smallest units which have low KW 120 volt heaters.
STANDARD CONSTRUCTION
The series EP air dryer is a completely packaged system
with fully-automatic controls and weatherproof or explosion
proof electrical construction. Only the process air and electric
power connections are required to place the unit in service.
Temperature & Pressure gauges are provided on each vessel.
Relief valves are provided for EACH VESSEL.
Vessels are ASME Code construction with code stamp when required designed for, at a minimum, 150 PSIG at 550°F with 1/16" corrosion allowance, or to specific job requirements.
Stainless steel screens are provided to hold the adsorbent in
the vessels.
Each vessel has separate adsorbent fill and dump connections.
Electrical components and wiring are furnished in accordance
with the National Electrical Code.
Control transformer is included on units with 460 volt heaters
so only one power supply is required.
Piping, flanges and fittings are carbon steel construction and
fabricated to ANSI standards.
A REPRESSURING VALVE is provided to allow vessels to
equalize pressure before switching to protect the adsorbent
and prevent downstream pressure fluctuations.
OPTIONAL FEATURES
Reactivation temperature switch to conserve energy.
Four-way valve sensor to cut off heaters & signal alarm on switching failure
Color change moisture indicator on dry air outlet line.
Panel lights to indicate which vessel is on reactivation.
Purge silencer to reduce noise when vessels depressure.
Purge flow indicator to allow adjusting reactivation purge air flow.
High humidity sensor with customer alarm contact.
Energy saving moisture load control.